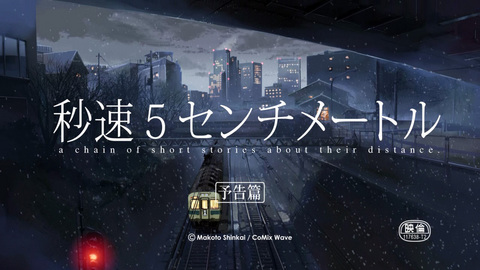 5 Centimeters Per Second
Genre: Drama, Slice-of-Life
Anonymous Blogger wrote:This ain't Hollywood.
Anime movies are a common thing whether it's a remake of a series, a recreation of a novel, or just a plain theatrical original. A movie and a t.v. show are different in not only length but in aesthetic beauty. This production is a perfect example of this. You've probably seen it over and over again online as anime wallpapers. As an anonymous blogger put it: "[it's] more like 5 wallpapers per second amirite"
Released in 2007, directed by Makoto Shinkai, it has been recognized as arguably one of the best anime theatrical productions of 2007. It won the Award for Best Animated Feature Film at the 2007 Asia Pacific Screen Awards, and the film was ranked 3rd at the national Tohan charts.
Plot(9/10)
In this movie there is nothing flashy; there is no sci-fi, magic, fantasy, or any other fictional elements, just pure love~ awwww. If anything the series, as the director said him self, portrays the reality in which we live in. This drama is not an escape from the real world, just in case you are looking for that, rather it is a recreation of the emotions, the feelings, the reality of the life that we all live in. The plot is not outlandish, unreal, overproduced, something that you see in a lot of dramas these days. The strength of the plot comes from the realness of it. Nostalgia is a good word for this. Digs deep into you and your memories, and reminds you of yourself.
There are no bad guys or good guys. Just plain human beings fighting against destiny and time. Trying to find a way to hold on. Each of the "main characters" you will sympathize with and each you will find your self routing for, which as you will notice is some what paradoxical.
Development is fast, yet it is not forced. The best way to describe the plot here is fluidity. It is amazing the amount of connection you feel with the characters within just the hour of play time. You'll be amazed by the work that this film does in just 60 minutes, it's almost unfathomable.
Music (8.5/10)
Music is not flashy, yet it plays well with the mood. It's quite and it's fragile. It reflects well the scenes that you are seeing. It fits in so well that you don't realize it. This anime is definitely a visually led production. Only in the end will you see the music become premenant, in which it leads the visuals with it. There is a lot of silence in this film, all of which are powerful in the moments that they appear. Don't expect anything flashy to listen to while your out and about, but it is perfect for
Animation/Screenplay (9.5/10)
As I said before this Anime is a very visual piece. Definitely watch in 720p, I would even recommend 1080p. The scenes in this animation really reminds you of a real theatrical production with real cinematography. The camera angles, the transitions, the lighting within each scene are all done with perfection and would make a perfect wallpaper for your desktop. That's how good it is. There are no flashy effects like explosions or gun shots; rather the beauty of each scene comes from the purity of it, each of which looks like a painting almost.
The movie is divided into three shorts, which really pushes that concept of memories. Each with its own individual plot and summary. Yet, each plot is a continuation of the other and with each summary comes a new conclusion to the whole. Each part is narrated by a different character and "the first person feel" of it really gets you to connect with each of the characters.
Last Remark...
There is nothing you can do to prepare for this movie. But expect maybe a couple tear drops, maybe a goose bump or two, some rough emotions, or just the plain inability to stop reflecting on your memories.
Do you know?
The speed at which cherry blossoms fall...
At what speed must i live,
To be able to see you again?
Final Ratings:
Story: 9 Moving, touching, everything that a drama is meant to be.
Animation: 9.5 Made up of scenes that look like paintings. Totally a work of art.
Character: 9 Splendid character development for a film of aprox. 60 minutes.
Music: 8.5 Melancholic and quite melodies, perfect for bedtime.
Overall: 9 I'd say even if you're not into dramas this is a must watch! Definitely on my watch again list.
Further Comments by Anonymous People Online
Spoiler:

more like 5 wallpapers per second amirite

I'm a guy and I cried. Best movie ever.

But this animation is almost painful to look at because it so damn beautiful. Stunning.

This ain't Hollywood.
Sources:
Wikipedia- 5 Centimeters Per Second
van, i love it that we are the only two so far that has actually written an anime review. pantsu just did a "is ecchi the same as hentai" thing with two series referenced in it. pantsu, please write an actual review of the two plz. would be better than saying both are ecchi.
_________________
"A person can murder another only once in their life." -Ryougi Shiki
Well I'm sure shiropantsu has things to do.
He said he was doing boxing so must be a little busy.
I'm just free all week 24/7 so lol.
O_O boxing?
i guess im gonna be expecting a fit pantsu next year
_________________
"A person can murder another only once in their life." -Ryougi Shiki
@ani. I spend my days rotting in SAT and AP, I will be doing ACTUAL reviews on actual series that are coming up this summer. So I'll be busy with APs, SAT, and the Reviews. As I have reported and alerted earlier, I won't be writing any reviews now because I don't have the damn time.
I have to Leave home around 7 in the morning by bus, it's an hour ride. I get to school, I study until 9.. pm. then i come home on the same bus, which takes another hour. Then i need to get the AP homework done, then the SAT reading homework done. So I haven't even had time to watch any of the series that are on now.
And ima start boxing in july cause I'll be doing this shit until then.
@Van, good review. 5 centimeters per second (the speed of sakura leaves falling *so it is claimed by the characters xD) is one of my favorite movies. I feel like I didn't even waste a single second of the movie.
p.s. ani take your whining somewhere else please because I'll be doing actual reviews in the summer (Follow-up reviews on the series that will be running that time)
p.s.s. ani just because you score the anime doesn't mean anything, you can write an essay on bunch of stuff but if the readers don't get it, they don't get it. I honestly thought that thing was way to long to be in anyone's interest, cept for fate-natics. But, I happened to be one so I read it.
p.s.s.s. "you can write a whole crap of stuff but if the readers don't get it, they don't get it" from randomcuriosity, which I think is an awesome anime review site to follow on the recent anime series. - you can't score with numbers and judge. the reviewers have to write a some-what-ambiguous review to attract more readers not cut off a section of them.
That was my ranting of the week, if not the month. Now I have to go back to the world of chemiosmosis, integrals, and the vocab.
_________________
Shiropantsu
"The country? The skies? You can have them. I'm busy just protecting what's right in front of me. I don't know what'll happen to me in the future, but if something has fallen at my feet, then the least I can do is pick it up."
- Sakata Gintoki



Posts

: 173


Join date

: 2011-06-14



:p tough dude
i know how u feel
my mum locked me in the basement studying for SATs and ACTs for the first 2 weeks out of school. wtv bro, im looking forward to ur reviews soon then :P
_________________
"A person can murder another only once in their life." -Ryougi Shiki
ahh junior and senior years when everyone can be Asian or when Asians can be more asian


Similar topics
---
Permissions in this forum:
You
cannot
reply to topics in this forum